(Not sponsored. No affiliate links.)
What is it?
It is a hypogastric [sic! – Ed.] cream which has a significant effect on improving pigmentation, such as discoloration and freckles, and helps improve skin damage. It"s natural ingredients are also good to grow fresh skin and clean skin. /Tosowoong/
It is actually beautifully yellow, light, thin cream. Almost gel like, even thinner, but not runny at all. It has strong citrusy, detergent like scent; you know that characteristic Tosowoong perfume. But that scent fades away rather quickly.
Tosowoong Spot Whitening VITA Clinic Cream is packed in aluminium 50g /1.76 oz. tube. Packaging design is simple, one doesn't expect beauty product inside, rather pharmaceutical ointment. Tube is sealed, just use the other (pointy) side of cap to open it.
How to use it?
Apply this product at the last step of skin care. /Tosowoong/
I use it in the morning most of the time. I apply a pea size of it after serum, wait for it to absorb, and then sunscreen.
When I use it in night skincare routine, it's always the last step.
Ingredients
Sweet Gee! Ingredients list is nowhere to be found in English. I did try with Google Translate though, and after several trials and errors, and lot of sweat, this is what I somehow pulled off:
Purified Water, Glycerin, Dipropylene Glycol, Butylene Glycol, Trehalose, Niacinamide (20,000ppm), Betaine, Cetyl Ethylhexanoate, Caprylic / Capric Triglyceride, Hippophae rhamnoides (Sea Buckthorn) Fruit Extract, Eucalyptus Extract, Tocopheryl Acetate (3000 Ppm), Ethyl Ascorbic Acid (100ppm), Acetyl Glucosamine, Extract Of Mulberry Root Extract, Apricot Extract, Apple Extract, Broussonetia Papyrifera Extract, Camellia Sinensis (Green Tea) Extract, Centella Asiatica Extract, Galactoarabinan Pine Mushroom Extract, Glyceryl Polyacrylate, Sodium Polyacryloyldimethyltaurate, 2-10, Hydrogenated Polydecenes, Panthenol (500ppm), Dipotassium Glycyrrhizate, Allantoin, Xanthan Gum, Sodium Polyacrylate, Disodium EDTA, Sodium Hyaluronate, Caprylhydroxamic Acid, 1.2-Hexanediol, Fragrance
I love what I'm seeing here: Vitamin B3 (Niacinamide) – 20000 ppm, Provitamin B5 (Panthenol) – 500 ppm, Vitamin E form (Tocopheryl Acetate) – 3000 ppm, Vitamin C (stabile form Ethyl Ascorbic Acid) – 100 ppm. BTW ppm means Parts Per Million, meaning "one gram of solute per million grams of sample solution" (Refference: chemteam.info)
Good botanical extracts and emollients round up this great ingredients list.
Rosacea safe?
Yes, but please do the patch test first. Rosacea is crazy MF.
Who is it for?
All skin types
Does it work?
Yes it does. My skin looks more "alive", it looks better and "glowing within".
When I first applied this cream, I instantly saw that refreshed skin effect. I use it almost religiously every morning, sometimes in the evenings and all I can say is – I need to get more of this.
Whitening effect of this cream is apparent on my PIE as it makes that boring reddish mess fade away much quicker. I can't verify its whitening effect on PIH or any other kind of hyperpigmentation because I don't have any. Apart from that, this is a great moisturizer, and as a day cream could be too heavy for oily skin types.
Although of intensive yellow colour, it doesn't show on skin at all.
The only con I can think of right now is that it really runs out fast. I've been using it for a month now, and I am already thinking of repurchasing it. Strange for me as my creams get into my "empties" bin the slowest of all skin care products.
Thumbs up?
Yes,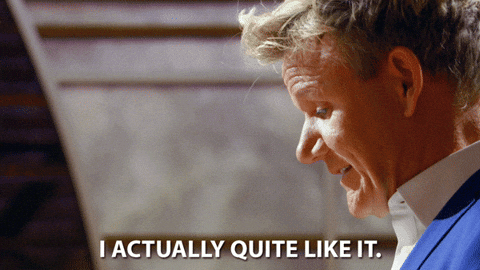 (giphy.com)