This product is provided by Kmall24.com for candid review purpose. Disclosure here . No affiliate links.
What is it?
A new kid in town. Treatment ampoule that promises to restore skin to pristine condition in only seven days. Intomedi has made a little bomb of hyaluronic acid, vitamin C, Argireline, ceramides and herbal extracts to achieve results on skin fast and furious.
Intomedi is Korean skincare brand under Janytree Inc. umbrella and they claim to be:
"No1 Dermo-Cell Cosmetic. The best adapted solution to specific skin concerns."
When it comes to this specific product, they claim it to be:
"Solution for:
Intensive hydration
Strengthening the skin's own power
Defending against irritations
Removing dead skin cells
Building skin barrier
Smoother skin texture
Refreshing
Soothing
Amplance hydro is formulated with our exclusive Bio-Peptone® and 3Hyamide™ that three different sizes of organic hyaluronic acid -large, medium, and mini- penetrates skin at various levels and hydrates, blocks, and defends against the loss. In just 7days use, one ampoule a day, this intensive hydrating ampoule activates skin's moisture power and helps restore smoother, younger, healthier-looking complexion."
Their marketing slogan is "0% – Zero skin" meaning "pure and firm skin like a clean and flawless without blemishes or spots or skin of a baby that is just born."
Ok, this sounds rather ambitious, don't you think?
The packaging is white, simple, but elegant box with 7 ampoules of 2 ml / 0.5 fl.oz.
Texture is thick, viscous liquid of no specific colour but with light flowery scent. The scent is very pleasant but raises my concerns as it comes from fragrant essential oils used in this formulation.
pH 5.5 makes it skin friendly.
How to use it?
After cleaning, but before using other skin care products, apply 1 ml to the face and neck. Massage gently in circular motions until it is fully absorbed into the skin. Use daily, day and night.
This is how I used it:
After cleansing, use hydrating (not gel/essence type) toner and apply it with thin cotton pad. After the skin is completely dry, apply 1 ml of Amplance Hydro ampoule.
Massage it into skin to absorb and then wait about 10 (or more) minutes to make sure it is completely absorbed into skin.
After that, proceed with other skincare steps. Make sure these steps are enough watery (toner/mist) and hydrating to feed that hyaluronic acid massaged into skin.
Ingredients
Very strong, fast and furious, beautiful list of ingredients varying from absolute cosmetic gems to some red flags that I am worried about.
Good and the best:
– 3Hyamide™ – is actually Sodium Hyaluronate (small molecule HA 4000 ppm), Hydrolyzed Sodium Hyaluronate (medium HA 2000 ppm) and Sodium Hyaluronate Crosspolymer (large molecule HA 800 ppm) – modified forms of hyaluronic acid of various molecular weight for intensive hydration of inner and uppermost skin layers.
– Bio-Peptone® – is Lactobacillus/Soybean Extract Filtrate, a Janytree's patented Bio-Conversion Plant Peptide Technology with purpose to restore skin's natural function.
– Peptide complex – Acetyl Hexapeptide-8 (AHP-8) is better known as Argireline. The concentration of Argireline used here is not disclosed, but definitely here to boost anti-wrinkle effect of the ampoule.
– Vitamin complex (vitamins C and E) – Although its concentration is not disclosed by Intomedi, Vitamin C (Ethyl Ascorbic Acid) is the third ingredient on the list, meaning it is rather high. This is the stabile form of Vitamin C and is true active, best in concentration levels from 0.5 to 10%. Its purpose is to brighten skin, even the skin tone and affect hyperpigmentation.
Tocopherol (Vitamin E) as strong antioxidant and anti-aging agent.
– Tranexamic Acid, an amino acid with skin conditioning, anti-inflammatory and skin lightening purpose.
– Ceramide NP and Lecithin are skin conditioners that smooth the skin surface and prevent skin flaking.
– Adenosine – great skin restoring and soothing agent that my skin particularly likes.
– Good herbal extracts with excellent soothing, anti-inflammatory and antioxidant properties: – Sunflower seed oil, Centella asiatica, Japanese Knotweed extract (Polygonum Cuspidatum Extract), Baikal skullcap (Scutellaria Baicalensis Root Extract), Camellia Sinensis (Green Tea) Leaf Extract, Glycyrrhiza Glabra (Licorice) Root Extract.
Good but with flagged caution:
– Rosemary leaf extract and Cypress water (Chamaecyparis Obtusa Water) – are here as soothing agents, but these ingredients can be sensitizing for sensitive skin.
Not so good ingredients (red flags):
– tangerine peel oil, rosewood wood oil and geranium oil (Pelargonium Graveolens Oil) are fragrant essential oils and can be very sensitizing. Just one thought of these and my skin is up to its usual shenanigans.
Rosacea safe?
Be very cautious as this ampoule contains fragrant essential oil that can be sensitizing to compromised skin.
Who is it for?
All skin types, but sensitive types, although marketed otherwise, should use Amplance Hydro with caution. Do the patch test first.
Does it work?
I have seen many, many promises of miraculous creams and potions that will make of you a porcelain doll in virtually no time. Usually in some obscure commercials and TV sales. You know those, right? "And if you call the number shown on your screen right now, we will add to this fabulous offer, not one, but two…" Thank you, I'll pass…
But when Intomedi says that Amplance Hydro ampoule will change your skin in seven days, the only thing I could say is: "Challenge accepted!"
This is serious skincare doing its job. And I knew it at the first pat.
Well, the first pat…
I must admit, at first, I was so clumsy in my attempts to determine exact (or at least approximate) half of this little tube. So the first pat was little bit humble in comparison to others. Because 1 ml of this liquid is more than substantial quantity for my face. And it's sticky. Imagine when you pat your first essence or any hydrating toner. Well, this isn't anything like it. This thing is rich, sticky, slightly tacky, making massaging it into skin properly hard.
It never dries completely on the skin. But it does leave crazy shine that doesn't go away even with applied foundation. Not the greasy bacon shine, but the most beautiful skin glow I have ever seen or any product has given me. I am telling you, this is crazy!
But! This product is very rich with hyaluronic acid. It attracts water, 1000 times its own weight water. And it does its job so well that will attract water from anywhere. Air around you, mostly, but if not from there, then from your skin. Give it some water to bind, feed these molecules to make your skin plump, moist and happy. You can do this with other hydrating mists or toners and moisturizers to lock everything in.
If not, then you will experience skin dehydration. You know, that flaky, stubborn dry skin that will not accept any foundation.
This ampoule made my skin totally different on the third day. But not in a good way. My concerns with fragrant essential oils used here were not crazy at all. It started with some little bumps around my mouth, but then my red alert zone (between my eyebrows) got red and angry. Like every time it finds something not to its taste. But I didn't stop the treatment. Because my skin was glowy underneath and was just waiting to get out.
I have never seen such paradox in any of skincare products. So efficient and soothing, but at the same time irritating. I refused to stop again as I saw the craziest thing: my elevens (wrinkles between the eyes) were completely gone. Not less visible, not less prominent, but plain and simple – gone. This was probably Argireline doing its magic.
Long story short, I made it to day seven and finished this amazing treatment.
Yes, at one point it made my skin angry, but it calmed down rather quickly (I'm still amazed by this). Full effect is crazy good!
Pores are tighter, fine lines are smoother now, grumpy elevens tightened and pulled away from each other, face contours sharper and stronger. And the glow! Oh that glow!
I don't know how long will this effect last, but let me enjoy it while it's there. Of course, my skin is nowhere near that Zero skin they promised, but I can settle with this one now.
Thumbs up?
Yes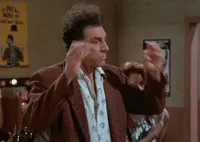 (gif borrowed from giphy.com)